Proposed location: Kuala Lumpur, Malaysia
---
Why is Kuala Lumpur (KL) the best place to host Devcon VII? Convince us

There are 10 main reasons:


Home of essential teams such as Etherscan and CoinGecko


Active community


Food, culture and tourist attractions


Affordable costs


Modern infrastructure


Fluency in English and other languages


International access


Safe


Tropical climate

Adoption and potential growth
Read on below or on Twitter to know more!
---
Answer the following questions to see if your suggested city matches the key criteria to host the next Devcon:
Country and Entry
1. What are the visa restrictions for the country?
Malaysia is visa-free for most countries and eVisa application is readily available for others.
Resources:
https://www.imi.gov.my/index.php/en/main-services/visa/visa-requirement-by-country/
https://www.imi.gov.my/index.php/en/main-services/visa/evisa-en/
https://www.imi.gov.my/index.php/en/main-services/visa/types-of-visas/
2. How easy is the international access?
Kuala Lumpur International Airport (KLIA) is the main international airport of Malaysia and is accessible globally, being an hour's flight from regional hub Singapore and often needing at most 2 transits to get to. It saw an estimated 62.3 million passengers in 2019.
Resources:
https://airports.malaysiaairports.com.my/
https://www.nst.com.my/business/2020/01/555422/mahbs-local-airports-handle-1052mil-passengers-2019
3. What about the safety and political stability of the region?
Malaysians take pride in having diverse cultures coexisting peacefully since independence in 1957. There are no political riots, conflicts or acts of terrorism with rare street protests.
Crimes in KL mostly involve pickpocketing in tourist hotspots. Tourists are advised to keep an eye out for bag snatchers and scammers.
Resources:
https://www.holidify.com/pages/safety-in-malaysia-3744.html
4. How expensive are venue rent, accommodation, food, and transport?
Malaysia is well known to be affordable in accommodation, food and transport. We are ranked 70th out of 106 in the cost of living index. Examples include:
Street food prices from as low as USD 0.50
Decent restaurant meals from USD 5
Ride-hailing for USD 5-10
5-star hotels for USD 80 per night
Resources:
https://www.neverendingfootsteps.com/cost-of-travel-malaysia-budget/
5. What is the climate during Q3/Q4?
As a tropical country, Malaysia is warm all year round with frequent rainfall. Temperatures range from 25°C to 33°C.
While others wear sweaters to protect against the cold outdoors, we wear them indoors!
---
City and Venue
1. How easy is the transportation in the city (between venues, airport, etc.)?
Getting to the city center from the airport typically takes about 40 mins and costs USD 10-20 via e-hailing services such as Grab. A train from the airport to the city takes 35 mins and costs USD 8-13.
KL has a well-developed public transport system. One can catch the LRT, MRT, KTM, or bus to get around KL and the surrounding Klang Valley conveniently. Ride-haling services such as Grab are widely used, providing a quick and easy way to travel.
2. Are there modern venues (WiFi/Maneuverability/Catering)?
There are a plenty of suitable venues for Devcon:
3. Are there venues with the capacity to host between 5-10k+ people?
All four of the above locations have this capacity.
4. What are attractions in or around the city?
Food
Often described as a foodie heaven:
Nature
Lots of nature to love:
Culture
There are cultural landmarks of various kinds:
Shopping
Different shopping experiences to savour:
---
Ethereum community and Impact
1. How does the Ethereum community look like in this region (e.g.: existing large community/ small but growing rapidly, etc.)?
KL is home to two of the most-used and most-loved products in Ethereum: Etherscan and CoinGecko.

is also home for members and contributors of teams such as Nethermind, Ribbon Finance, Galaxis and Polygon.
The local community ETHKL is one of the most active in the world, with more than 100 meetups and workshops run over the last 5 years. Its sister group ETHPenang was set up in late 2022 to be a meetup for Ethereans in Northern Malaysia.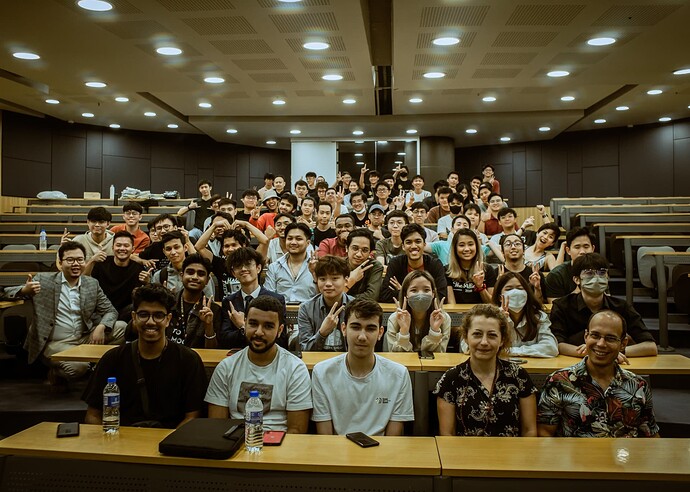 2. What is the potential of Ethereum to have an impact in that region?
South East Asia is a fast-developing, multi-cultural region of the world. Leveraging Ethereum allows the countries here to boost their progress even further and illustrate Ethereum's capability to change the world.
KL is a hub for Islamic finance, an industry with an addressable market of almost 25% of the global population. Decentralised tech has the potential to unlock and bring this industry forward.
3. How is hosting Devcon in that city benefiting the Ethereum ecosystem?
As one of the most developed-yet-affordable cities in Asia, KL is an ideal place for Ethereum builders to base their operations out from. Many in the community are unaware of this city's potential, and hosting Devcon will open them up to the opportunity.
The level of English fluency is much higher here than in most of the region, making for easier integration of builders from around the world. There is also a wide number of Mandarin speakers and a reasonable number who speak languages such as Tamil and Arabic.
The diverse cultures in KL provide a gateway into Asia for the rest of the world. As we like to say: "Malaysia, Truly Asia"
---
Concerns and Downsides
Every location has its pros and cons. It's important to also consider the potential downsides.
What are possible risks?
Monsoon season in Malaysia is from October to March. While it mainly affects the east coast and not KL, there may be heavy rain and floods that affect part of the city.
What could be the downsides?
Traffic in KL can be bad. Devcon attendees are encouraged not to travel across the city during rush hour.
While visiting Malaysia is easy for most countries, one exception is Israel. Israeli citizens will need to apply for a special conference visa and receive approval from the Ministry Of Home Affairs to attend.
---
Additional Information
See you in 2024