Proposed location: Nha Trang city, Vietnam
Why is Nha Trang, Vietnam the best place to host Devcon VII? Convince us

About Vietnam: Vietnam is a Southeast Asian country known for its rich culture, fresh cuisine, amazing beaches, pristine landscapes, and bustling cities; attracting countless visitors from all over the world. It is also known for its economy and technology development. Vietnam has led Southeast Asia's rise as an economic powerhouse; ranking among the top fastest growing economies in the world in the years leading up to Covid, and one of the few countries with continued positive growth during Covid.
As one of the top tech talent hubs in the Asia-Pacific region, over 900,000 young Vietnamese talents work in IT and software development. It is also home to one of the big and early contributors of the Ethereum ecosystem - Kyber Network - as well as other notable Web3 projects; and has topped global crypto and DeFi rankings alike. The government itself has also welcomed the development of blockchain technology, naming blockchain as one of the priority technologies in its "4th industrial revolution"; while an estimated 41% of Vietnamese residents own crypto.
About Nha Trang: As a popular coastal city, Nha Trang is the center of politics, economy, culture, science, technology and tourism in Khanh Hoa province, Central Vietnam. It is a key tourist destination for both domestic and international visitors in Vietnam, topping many global tourism rankings; and offering a long stretch of beaches with clear waters as well as many remote islets. Nha Trang offers a nice escape from crowded cities and is a good place to meet great people and make good memories at Devcon; with many options for recreational activities, and not to mention, very good seafood. The nightlife along the waterfront is very lively with many restaurants and bars to plan and host side events as well.
About the Venue - Vinpearl Nha Trang: Just a short way across the emerald sea water is Hon Tre Island, the proposed venue for the Devcon conference. Located in one of the most beautiful bays in the world with more than 300 sunny days a year, Vinpearl Nha Trang complex on Hon Tre island is a famous tourist destination both in Vietnam and globally. It is designed and operated according to the all-in-one model. There are 5 luxury resorts on the island with a capacity of 1,362 hotel rooms and 735 beach villas, the 50-hectare VinWonders theme park - the most modern in the region, and an 18-hole golf course designed by IMG Worldwide. Besides the system of premium meeting rooms within each resort, there is the Vinpearl Convention Center Nha Trang and Vinpearl Theater Nha Trang with a total capacity of up to 5,000 guests.
(*)
Vinpearl is a subsidiary of Vingroup - one of the leading private conglomerates, operating in 3 core pillars, including Technology & Industry, Trade & Services and Social Enterprise
Answer the following questions to see if your suggested city matches the key criteria to host the next Devcon:
Country and Entry
1. What are the visa restrictions for the country?
Citizens of many countries are exempted from visas to Vietnam. Information about Vietnamese visa procedures can be found here: Vietnam portal on Immigration/Vietnam visa - National portal on Immigration (xuatnhapcanh.gov.vn)
Vietnam is currently issuing an electronic visa, with more information here: Vietnam portal on Immigration/Vietnam visa - National portal on Immigration (xuatnhapcanh.gov.vn)
In the coming months, Vietnam will also open again to many more countries, as it continues to return to normal pre-Covid policies.
2. How easy is international access?
There are many direct flights between major international destinations and Vietnam, with the closest major airport in Ho Chi Minh City. From there, Nha Trang (Cam Ranh International airport) is a short, hour-long flight away; and as it's a popular destination, there are many flight options.
Tan Son Nhat International Airport - Tan Son Nhat International Airport (vietnamairport.vn)
CAM RANH INTERNATIONAL AIRPORT - CAM RANH INTERNATIONAL AIRPORT (vietnamairport.vn)
3. What about the safety and political stability of the region?
Political stability is a great advantage of Vietnam. There are no conflicts or political riots here and Vietnam is also rated as a safe destination by tourists. Visitors will especially have peace of mind when choosing Vinpearl Nha Trang as it follows the all-in-one model and has a tight security system.
Should there be any health issues or emergencies, major cities like Nha Trang also have both private and state-owned hospitals with English-speaking staff, and foreign visitors are welcome to use the services. The owner of the proposed venue also owns a nearby hospital that meets international standards: Vinmec Nha Trang International General Hospital.
4. How expensive are venue rent, accommodation, food, and transport?
Vietnam is a very affordable country compared to many other tourist destinations. Visitors to the Devcon conference can choose to stay right on Hon Tre Island, in Vinpearl Nha Trang resorts. Moving between inner resorts, the convention center and entertainment venues is completely free of charge with our tram system. In addition to 5 resorts on the island, Vinpearl also has a 5-star hotel across the water in the main city – Vinpearl Condotel Beachfront Nha Trang - with a breath-taking view of paradise bay; and there are many other accommodation options as well. Visitors can easily move from the island to the shore to get to the city center and vice versa with high-speed boats that only take 7 minutes.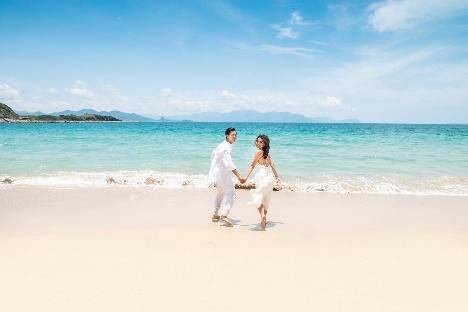 5. What is the climate during Q3/Q4?
Nha Trang in general and Hon Tre island in particular are famous for their year-round mild climate with 300 sunny days/ year and a climate that is always at a healthy threshold.
August: the highest temperature is about 34 degrees Celsius, and the lowest is about 22 degrees Celsius
The last months of the year will be slightly lower in temperatures with occasional rain.
City and Venue
1. How easy is the transportation in the city (between venues, airport, etc.)?
It takes about 45 minutes to get to Nha Trang city center from Cam Ranh international airport. Guests with large groups can book an airport shuttle in advance, or guests can take regular taxis or cars on-demand via ride hailing apps like Grab. Within the city, people can also conveniently get around with taxis or ride hailing apps.
Transit to and from the conference venue on Hon Tre Island is very convenient, as there is a regular speedboat service to take visitors back and forth between Nha Trang City and the island. The speedboat trip is only 7 minutes. Once on the island, there are regularly operating trams to transport guests, free of charge and provided by Vinpearl. Visitors can also use bicycles (free of charge) to move around, exercise, and explore the beauty of the Island.
2. Are there modern venues (WiFi/Maneuverability/Catering)?
Vinpearl on Hon Tre island offers premium meeting options with Vinpearl Convention Center Nha Trang and Vinpearl Theatre Nha Trang. Meeting venues are equipped with state-of-the-art lighting and sound systems, 24/7 wifi, luxurious tea breaks, and top-notch banquet food honoring the quintessence of local and international cuisine. It is also easy to engage local volunteers and contractors such as videographers, photographers, logistics personnel, and food catering.
Vinpearl Convention Center Nha Trang
Vinpearl Theater Nha Trang
3. Are there venues with the capacity to host between 5-10k+ people?
Vinpearl Convention Center Nha Trang and Vinpearl Theater Nha Trang offer a total capacity of about 5,000 guests. Vinpearl Convention Center Nha Trang has a total area of ​​5,600m2, including 2 floors with 8 large meeting rooms and 5 smaller ones. Vinpearl Theater Nha Trang has an area of ​​4,686m2.
4. What are attractions in or around the city?
Located in Nha Trang city, Khanh Hoa province, Nha Trang Bay is known as the most famous beach destination in Viet Nam. Nha Trang is called "A Paradise on Earth" with modernity and tradition harmoniously combined in the beauty of sea, mountains, islands, historical sites and architectural complex. Nha Trang's attraction comes from its beautiful and pristine beaches stretching along the city and romantic islands dotting the Bay. Nha Trang beach is one of the 99 most beautiful beaches in the world voted by National Geographic Magazine. Since June 2003, Nha Trang Bay has become a member of the Club of the Most Beautiful Bays in the world and was voted by Travel & Leisure magazine as the most beautiful bay in the world for 2 years in a row. This is a place where many international tourist events have taken place.
Vinpearl Nha Trang is a leading resort - entertainment - sea exploration complex in Southeast Asia, located in Hon Tre island. Besides international 5-star resorts and convention centers, Vinpearl Nha Trang also offers visitors top-notch entertainment experiences:
The 18-hole golf course overlooking the paradise bay, designed by IMG Worldwide, is the first international standard island golf course in Vietnam, awarded the "Best Golf Course in Vietnam" by the Asian Golf Awards.
VinWonders theme park with hundreds of top-notch entertainment experiences: the world's first and only 360-degree transparent submarine, Tropical Paradise - the first and only beach water park in Vietnam, spreading over 59,000 m2 with 39 challenging slides; Tata show: the first world-class multimedia extravaganza show in Vietnam; Zipline; The World Garden…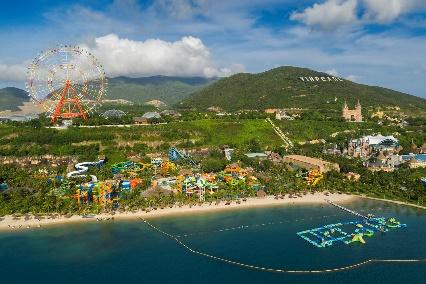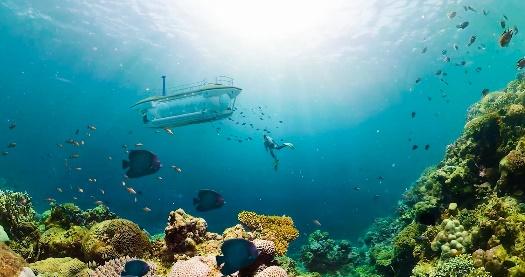 In the shape of a glamorous royal palace emerging amidst the lush green hills, Imperial Club Nha Trang, with a panoramic view over the entire charming bay, is an inclusive complex of local & international cuisines, along with exciting entertainment facilities such as karaoke, bowling, The Wave club…
In addition to the experiences at Hon Tre Island, visitors can explore many famous landmarks and unique experiences of Nha Trang such as Ponagar Tower, Stone Church, Mun Island, Yen Island, mud bath…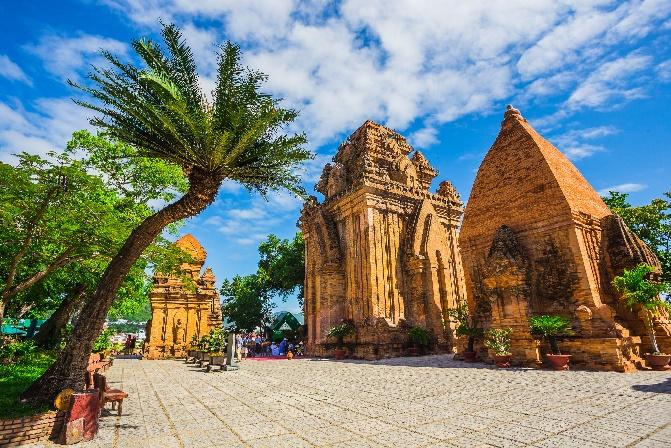 Ethereum community and Impact
1. How does the Ethereum community look like in this region (e.g.: existing large community/ small but growing rapidly, etc.)?
Vietnam is home to several notable blockchain companies, including Kyber Network, an early member of the Ethereum ecosystem who contributed to the concepts of decentralized exchange, DEX aggregation and capital efficiency; and participated in the development of wrapped Bitcoin as well as the first decentralized bridge. It is also home to other major projects such as Axie Infinity, who started on Ethereum, and Coin98 DeFi Wallet. The Vietnam crypto and blockchain space has exploded in popularity with countless new projects in the last bull run, including Sipher, an Ethereum-based GameFi project which has launched their game character collections on Ethereum.

Blockchain continues to see a rapid increase in adoption in Southeast Asia as more organizations are keen to make the most of the technology, including the government itself with its establishment of a pilot study on cryptocurrency in 2021. Investors also play a major role in the blockchain ecosystem, as venture capital for companies in Vietnam increased from $48M to $2.1B in 2021 in only four years.

As a top tech talent hub due to its good education system, especially in mathematics and engineering, the country also represents a strong work force for tech companies all over the world with more and more engineers entering the blockchain space. The number of blockchain-related jobs in Vietnam alone tripled in 2021.

Vietnam is a very attractive market for fintech businesses in general, with a huge underserved population, and backed by strong economic growth (6.17% in Q3 2021 despite the Covid-19 pandemic). The tech/fintech community in Vietnam has embraced blockchain technology with enthusiasm. The Vietnamese blockchain landscape is likely to further benefit from the country's growing fintech prospects, with the total transaction value of digital payments being US$8.6 billion and the number of registered mobile wallets reaching 6.5 million in 2020. Vietnam is also among top crypto adoption countries , ranking first on the 2021 Chainalysis Global Crypto Adoption Index; and has not only embraced crypto trading, but also DeFi, ranking second on the 2021 Chainalysis DeFi Adoption Index.)
2. What is the potential of Ethereum to have an impact in that region?
In general, Vietnam has been the regional development center for blockchain and blockchain companies, hence, the number of blockchain developers here is very significant; talents who would benefit enormously from the exposure to global-thought leaders and builders from the leading blockchain as well as the opportunity to meet and work with projects in the ecosystem. Through this exposure, they would be inspired to build more impactful projects in the Ethereum ecosystem.
3. How is hosting Devcon in that city benefiting the Ethereum ecosystem?
The Ethereum Foundation and its ecosystem would also benefit from the exposure to one of the leading countries in crypto and DeFi adoption. Vietnam is also situated in a very favorable location with easy access to SEA countries, Australia, China and India. Devcon hasn't been in Asia for a long time (since Shanghai 2018) so this would be a great opportunity to expand your impact in a fast-growing region and connect Ethereum leaders with potential talents in Asia.
Concerns and Downsides
Every location has its pros and cons. It's important to also consider the potential downsides.
What are possible risks?
As mentioned above, political stability is a great advantage of Vietnam. There are no conflicts or political issues here, and Vietnam is also rated as a safe destination by tourists. Visitors will especially have peace of mind when choosing Vinpearl Nha Trang as it follows the "all in one" model and has a tight security system. Therefore, there is almost no danger for visitors on the island.
What could be the downsides?
Some people may hesitate to travel to Nha Trang because there are no direct flights to Cam Ranh International Airport, so they will have to combine different means of transport (plane, car). Besides, if tourists want to experience the local life in a more hands-on way and travel by motorbike, they should pay attention to the traffic situation in Vietnam, understand local regulations, and be careful while driving.
Other information (if any)
Vinpearl is willing to discuss in detail and negotiate the terms for collaboration between both parties.