Proposed location: Taipei City, Taiwan
Why is Taipei the best place to host Devcon VII? Convince us

Taiwan is a country famously regarded as being the cultural entrance to East Asia. The island sits at a geographically convenient location and has a history of becoming home to many originally from China, Japan, ASEAN, and other regions around the globe. Diverse historic and cultural influences naturally live in our daily lives and have their reflections on the streets, buildings, food, and religions. Expect to walk in alleys tranquil and organized as those in Japan, with a bustling Toaist temple around the corner; or savor exquisite French desserts with a twist of Taiwanese local fruits and ingredients that expand your imagination for flavors.
Taiwan currently ranks as one of the more economically and technologically competitive countries in the world, with the semiconductor industry most famously renowned. There is high potential for further innovation given its high R&D talent density.
Taipei, the capital of Taiwan, is a modern city that is home to countless developer communities (including Taipei Ethereum Meetup). The crime rate is so low that it is safe to walk alone on the street at night. People are also generally friendly to strangers.
The ICCA ranks Taiwan as one of the most popular convention destinations. Suitable venues are conveniently accessible via public transportation and ~60 minutes from the major airport. Accommodation is also widely accessible and affordable in the vicinity.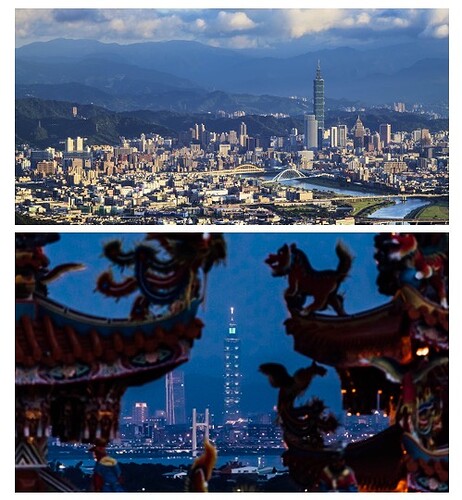 Country and Entry
1. What are the visa restrictions for the country?
Citizens of most countries can easily apply for a visa, eVisa, or visa-exemption program to enter Taiwan. Taiwan will restore all visa application procedures and the border will open to all visitors starting 10/13/2022.
Visa-exemption: 65 nationals are eligible to enter Taiwan visa-free from 14 to up to 90 days. Taiwan visa-exempt entry program country list.
eVisa: Some countries are eligible to apply for eVisa (Refer to p6 in the link).
Taiwan Employment Gold Card is a program that allows highly-skilled foreign talents, including those working in technology, science, economics, and finance, to work and reside in Taiwan for 1-3 years, with possibility for extension! Watch what Tom Schmidt at Dragonfly Venture thinks about the program here!
2. How easy is the international access?
There are 2 international airports close to Taipei: Taoyuan International Airport and Songshan Airport. Taoyuan International Airport and Songshan International Airport had received 48 and 6 million passengers respectively in 2019.

As of Oct 2022, Taoyuan International Airport has direct flights to 94 airports in 29 countries. It is conveniently connected to the city center of Taipei: 39-53 minutes by airport metro, and about an hour by bus.

Songshan International Airport is located in Taipei city center, and has direct flights to 16 airports in China, Japan, and South Korea. Songshan International Airport is connected with the metro system in Taipei that allows fast connections to major tourist spots in Taipei.

Sources:
https://www.flightconnections.com/flights-to-taipei-tpe
https://www.flightconnections.com/flights-to-taipei-tsa
3. What about the safety and political stability of the region?
4. How expensive are venue rentals, accommodation, food, and transport?
Taiwan is known for low cost of living (50% less than the US) but high quality of life.

Venue rent could range from $20,000-$30,000 a day for venues such as Huashan 1914 Creative Park and Songshan Cultural and Creative Park.

Transportation in Taipei is very affordable. City travel pass (including metro and bus) for 3 days is about $15 and 5 days is $25. Uber is about $10 for 30 minutes.

Food in Taiwan is otherworldly delicious and affordable. A day's cost for food can be covered for $15-20.

Accommodation in Taipei is very affordable and most offers amenities. Hostels in Taipei with great reviews (8/10 and above) range from $15 (dorm)-$50 (private room). Hotels with great reviews start from $40.

Reference: https://www.expatarrivals.com/asia-pacific/taiwan/taipei/cost-living-taipei
5. What is the climate during Q3/Q4?
Sep-Nov is recognized as the best time to visit Taiwan. The temperature in Q3 in Taipei is generally warm, and chilly in Q4. On average, there are 11-14 days of rainfall in Taipei in Q3/Q4 but it usually lasts only a couple hours or less.
July: High 35°C; Low 26°C
August: High 36°C; Low 26°C
September: High 33°C; Low 24°C
October: High 27°C; Low 22°C
November: High 24°C; Low 18°C
December: High 21°C; Low 12°C


City and Venue
1. How easy is the transportation in the city (between venues, airport, etc.)?
Metro in Taipei is very convenient. The metro system in Taipei is connected with Taiwan Taoyuan International Airport, the major airport in Taiwan.


There are 131 MRT stations and over 3,300 bus stops in Taipei.
https://ebus.gov.taipei/

There are 24,000 public bicycles and 1,577 bike stations.
臺北市|YouBike微笑單車


Affordable Uber and Taxi.
2. Are there modern venues (WiFi/Maneuverability/Catering)?
3. Are there venues with the capacity to host between 5-10k+ people?
Songshan Cultural and Creative Park

Multi-functional Hall can accommodate 920 people, with additional 14 meeting rooms and 5 indoor spaces (excluding tables, chairs and other facilities) which are capable of accommodating 1380 and 3000 people respectively. In total, Songshan Cultural and Creative Park is capable of having 5500 people.
臺北文創
MeetTaiwan-松山文創園區
http://www.taipeinewhorizon.com.tw/TNH/VR-MultiPurposeHall

Huashan 1914 Creative Park

18 indoor spaces can accommodate up to 4620 people but most of them are NOT equipped with facilities.
https://www.huashan1914.com/w/huashan1914/AppPlaceList

Taipei Performing Arts Center

Two of the theaters can accommodate 1500 and 2300 people respectively. Along with the other 10 interior spaces, the center can accommodate 6500 people in total.
Venue rental information: 臺北表演藝術中心|場地與設備租用系統
4. What are attractions in or around the city, and how close are they to the venue?
Cuisines
Taipei serves authentic cuisines from various cultures and is considered a paradise for gourmets.
Night markets are a must-visit in Taiwan which are known for delicious local food such as braised pork rice, pepper bun, and stinky tofu. There are several night markets throughout Taipei such as Shilin Night Market and Ningxia Night Market. You will have a hard time to stop eating!


Taiwan has a rich tea culture and we are known to have modernized the way to drink tea. You will find tea shops in literally every corner throughout Taipei (and Taiwan) that serve (our world-renowned) bubble milk tea, fruit tea, and salted cream cheese foam tea. Don't forget to try our various kinds of Oolong Tea such as Oriental Beauty; you'll regret not stocking up high-quality oolong tea in Taiwan as they're usually rare to find and pricey abroad.
Are you a night owl? Taiwan has a lot of convenient stores open 24/7 (again, literally in every corner in Taipei) so you don't need to worry about not being able to get food late at night. There are also some cafes that are open until 3am. Whether you want to stay up late to keep building your idea or just want to enjoy the late night city vibe, there is a place for you.
Cultures
In the past decade, Taiwan has had a booming cultural and creative industry that seeks to preserve and revive pieces of our cultures and history while engaging with the younger generations through a more creative way. Besides being wonderful exhibition venues, Songshan Cultural and Creative Park and Huashan 1914 Creative Park are two popular destinations with renovated historic buildings where you can see and feel traces of our history and enjoy cultural and creative activities.
Nature
In suburban Taipei, Yangmingshan National Park is a great place for enjoying a hike or its expansive view.


Beitou has plenty of hot spring spots that allow tourists to start the day afresh or end the day stress-free.
Entertainment
Devcon can take good advantage of various kinds of landscape in Taiwan, where a variety of tours can allow attendees to build deeper connections and bond together as a community.
Ethereum community and Impact
1. How does the Ethereum community look like in this region (e.g.: existing large community/ small but growing rapidly, etc.)?
Overview: Ethereum community is steadily growing with increasing interest from all sectors and industries, including the government, to explore potential applications with Ethereum.

The following picture shows the blockchain ecosystem in Taiwan in first half 2021.


Ethereum applications in Taiwan: Taiwan has diverse applications based on Ethereum. Several local DeFi protocols are built on Ethereum, including DEX, lending, aggregator, derivatives, such as Perpetual Protocol and Furucombo. As NFT gets more attention, local brands, enterprises, and the government are adopting NFT as collectible, membership, tickets, and marketing tools on Ethereum and L2s. Also, there are many artists devoted to generative art and digital art on Ethereum.

Educational communities: Taiwan has several communities teaching smart contacts with Solidity, such as Krypto Camp and The Z institute. And also local publications about Ethereum, there are at least 80 books you can find in the book store translated or written in Mandarin, including The Infinite Machine and Radical Markets. Universities like NTU, NCCU, NTHU, and NCKU, etc. all have courses about blockchain and Ethereum.There are also multiple blockchain focused media that diligently provide the latest update of Ethereum and facilitate discussions.
There are also about 20 universities in Taiwan with a blockchain club, which all together form Taiwan Blockchain Academia with regular blockchain events and programs for students and beyond.
2. What is the potential of Ethereum to have an impact in that region?
Given its democracy and strong technical talents, Taiwan could be a great incubator for Ethereum experiments in the Mandarin market.
Taiwan has great technical talents who have led Taiwan to dominate the foundry market. Vying for our technical talents, top global technology companies also have a presence in Taiwan. At the same time, the government is looking beyond today into the future to develop the latest technology, including blockchain. With many companies and organizations in blockchain offering global pay that could compete with that in semiconductor companies, companies and organizations in blockchain could really take advantage of the talent pool in Taiwan. Devcon could be a great entry point for developers and researchers alike to explore possibilities in blockchain.
Taiwan has relatively high participation in public affairs. Our 2020 Presidential election has an 80% vote rate which is 10% more than the US election in 2020. Referendums since 2004 also have a 40~50% vote rate. Ethereum has the potential to help people in Taiwan to build their DID, to utilize Quadratic voting, and efficiently set up any public affairs for discussion.
3. How is hosting Devcon in that city benefiting the Ethereum ecosystem?
Taiwan has a very strong open source culture from the bottom up and with leadership in place that are web3 forward from the top down - creating a synergy where decentralized society in a democracy leveraging web3 can be experimented, incubated and innovated upon. There is nowhere in the world with similar top to bottom / bottom to top openness to web3 championing the value and ethos of freedom and autonomy. Few resources to support this:

Taiwan is world renown for its hacker culture and community, starting from 10 years ago g0v (pronounced gov0), demonstrating how civic open source can benefit public goods, where open source developers built mask ration systems that directly contributed to 10 months without covid in Taiwan.

Audrey Tang recently started a new branch in government named "Ministry of Digital Affairs (MODA)" with a specific focus on democracy networks citing web3 technological advancement. MODA plans to adopt and demonstrate how NFT and zero trust architecture could be integrated into processes of MODA, eventually expanding to other governmental departments. Link

Recently, the government also relied on Ethereum / IPFS to prevent cyberattack.

With China's ban on cryptocurrencies, there has been an influx of people joining cryptocurrency communities in Taiwan. Taiwan is poised to be the most vibrant crypto community in the Mandarin market.

Hosting Devcon in Taipei is a great opportunity to bring the government and developers together to explore Ethereum's potential application in government, e.g. to build a more transparent government and facilitate the public's engagement in public affairs.


Concerns and Downsides
Every location has its pros and cons. It's important to also consider the potential downsides.
1. What are possible risks?
Regional stability: Tensions between Taiwan and China have been rising; China often threatens to take over Taiwan, by force if necessary, and shows military maneuvers around Taiwan. Though a real war seems unlikely to happen in recent years, it is a factor to consider.

Earthquakes: Earthquakes often happen, but most are minor earthquakes that people usually can't feel, and buildings in Taiwan are earthquake-resistant up to a certain level. The chance of having earthquakes of magnitude 7.0 or above in Taipei for the next 25 years is 4%, and 7% for the next 45 years.
2. What could be the downsides?
Weather: Taipei has on average 11-14 days of rainfall in Q3/Q4. Sometimes the rain could be heavy, which makes being outdoors troublesome. Q3 is also the typhoon season, but there hasn't been any typhoons landing in Taiwan for the past 3 years.


Additional Information
Please add any extra information you want.
Open source community in Taiwan, to name a few:
Welcome to Taiwan!