Summary
This is a proposal for an "in-venue only" communications platform, for use by attendees of Devcon6, during the event.
It is primarily intended to enable any attendee to participate in any session from any location with access to the venue's local area network.
It can also enable locally-secured socially-distanced meetings between attendees, as well as being a platform for a voting mechanism, interactive gaming and other cultural sharing.
Vlad Zamfir's Talk
At Devcon4, the well-known cryptoeconomic researcher and orator Vlad Zamfir, hosted a workshop entitled "Building A Cryptoeconomic Tool Set" with Aditya Asgaonkar, Ben Jones and Georgios Piliouras.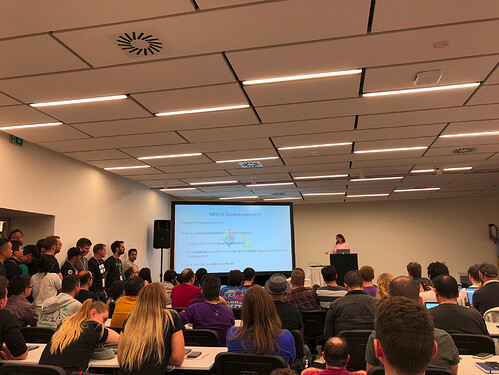 The presentation occurred in a side room at the venue, which was unable to accommodate all those wishing to participate. The room was a "Packed house" according to Twitter user clearmatics, and witnesses at the event reported a crowd of over 40 people outside, trying to listen through a crack in the open doors.
At the time of writing, the slides from the presentation are still available (see comments for links), however there are no known published recordings of audio or video from the workshop.
This proposal seeks to avoid such scenarios from happening again, as well as to maximise the availability of information shared in real-time during the event.
Context
Openhouse is a hackathon project as part of ETHGlobal's HackMoney hackathon. The project aims to evolve existing open-source video-chat infrastructure software, to cultivate real-time open digital spaces, governed by Ethereum.
It is inspired by the idea of creating a decentralised and "fair-trade" version of Clubhouse, with access controlled via decentralised onchain mechanisms. It is also intended to enable viable alternatives to heavily-used centralised options for video conferencing across the Ethereum ecosystem.
As well as having the potential to cultivate creator economies on Ethereum, the project has a strong focus on decentralised governance. One objective would be to provide alternatives to systems where a single human has the power to censor another single human.
Prototype Approach
Prototyping during the hackathon focussed on integrating the open-source jitsi-meet video chat platform, with Ethereum.
This integration was primarily via the front-end, with a user required to "Connect Wallet" as the sole authentication mechanism. This enables a user to interact directly with Ethereum during a video conference.
Further development focused on decentralising the software's "Moderator" role, in order to enable rudimentary onchain governance as a mechanism for testing community-based moderation.
This would enable decentralised decision-making to govern granting and revoking access to users of such a communication platform.
High Level Proposal
To implement a locally-hosted instance of Openhouse's software onsite at the Devcon6 venue, to provide an open and community-governed real-time video and audio communications platform for sharing information in real-time at Devcon.
Attendees can be informed that they may use this platform to share content for other participants, who may, for example, wish to maintain social distance, and not wish to enclose themselves in a room with other participants who have travelled to the event from around the world. The software could also be used by presenters themselves, to share their own screens (e.g. for slides) and audio.
Users may also have the opportunity to financially reward other users in the video chat, perhaps by making onchain payments to the speaker, to the person broadcasting the content, or even to someone who asks a particularly good question from within the video chat.
Ideally, the software would be integrated into a conference attendee's digital user experience, e.g. within the conference webpage or the app. It would also only be available when connected to the venue's local area network or wifi - which would require careful communication.
After the event
While this proposal focusses heavily on providing the best user experience for attendees during the event, it can also continue providing value to the wider community after the event.
Firstly, the platform can be configured to automatically record chat sessions, meaning that no information shared at the end gets lost to humanity.
Secondly, as Openhouse is an open-source platform, it can provide a means for self-hosted Ethereum-enabled platforms going forwards, as alternatives to centralised options for real-time communications.
Conclusion
To conclude, this is the seed of an idea. The concept, and the hackathon project are less than 2 weeks old, but we have received very positive feedback thus far, as well as making strong initial progress with integrating jitsi-meet with Ethereum.
We do believe, however, that at the very least, the Devcon organising team may consider implementing a basic jitsi-meet instance for the event. This would be in order to cater to in-venue communications requirements, and assist the sharing of information.
Openhouse's extension of jitsi-meet to integrate with Ethereum may however provide the kind of user experience that a crypto-native attendee of Devcon might enjoy.
We look forward to hearing feedback on this proposal.